«The tanks were rumbling on a field... »

When we are talking about World War II, it seems that it was happening not with us and somewhere in a parallel universe. But, no, my friends, it was on our land, with our families and friends. It is very difficult for today's generation to imagine what it looked like - a military "gore", and that in fact it was not so romantic and beautiful as it was described in movies and books. On November 3 all citizens and guests of Kiev had the possibility to feel the atmosphere of the battlefield for awhile in area of "Sitniaki" (Troieshchina). Here, in the frames of an annual festival "Даешь Киев!" the massive battle on Dnieper forcing was reconstructed. It was dedicated to the 70th anniversary of Kiev's liberation from fascist invaders. Not sparing their nerves and ears, correspondents of WePlay.TV by their own eyes saw how it was, heard the rumble of still solid T-34, volley of automatic gunfire and the howling of fighter planes overhead.

To say that there were a lot of spectators, it means to say nothing because there was crowd of people. It was the first surprise of the day, the reconstruction of the battle has already begun, but people were still continuing to come from all sides.  There was lack of places on the viewing platform even for those who came at 9 am. That's why everyone tried to be placed as he/she could. Vehicles' roofs, more or less strong trees and shoulders of high young men were suffering. Also we were petrified by a number of little children who started to cry because of consecutive bursts of not real, but very vociferous shells.
The reconstruction itself began almost without delay. Initially, planes "Як -52" and "Як-18" were buzzing in the sky. They performed the role of Soviet fighter planes and German Focke-Wulf FW-190. Unfortunately, there are no original planes of World War II in Ukraine that could fly, but these exemplars were not much different from the originals even on closer inspection.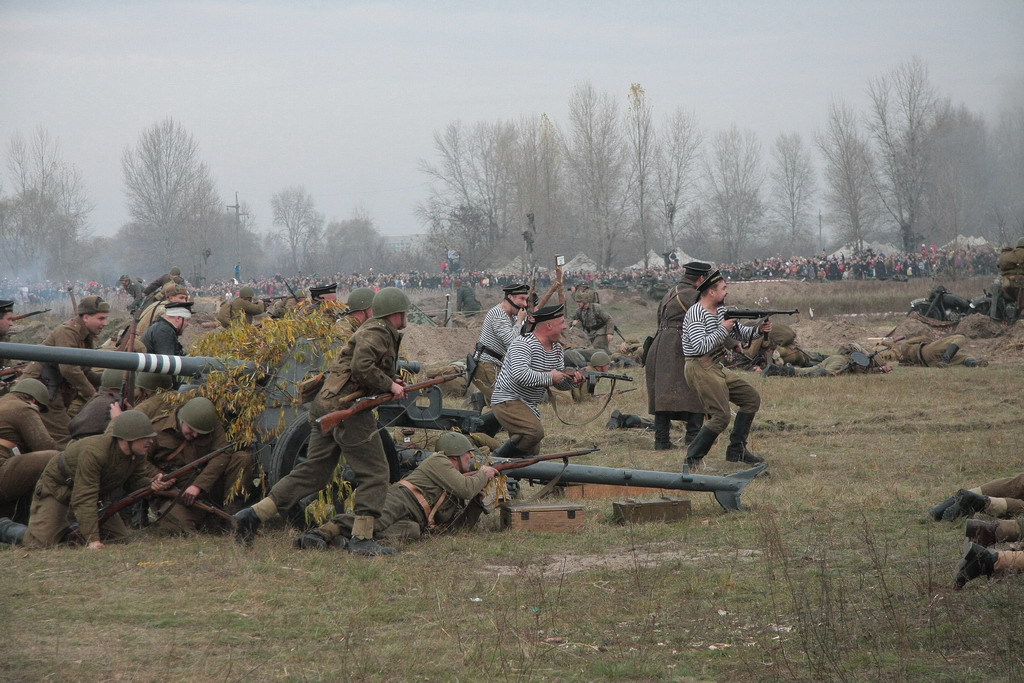 The festival was attended by more than 1,200 representatives of 26 different clubs from Ukraine, Poland, Russia, Czech Republic, Latvia and other countries. It should be said that a variety of military equipment and weapon would impress even the biggest skeptics. Audience enjoyed the demonstration of artillery, variety of armor and motor-vehicles, tanks, motorcycles and machinery for forcing water barriers: boats, barges and other devices. As well as tanks T -34, German PzKpfw V Panther (better known as "Panther") pleased the audience by their well-restored condition. Ears were stuffed because of sounds of field and anti-aircraft guns of World War II. Also machinery, which was directly involved in the fighting for liberation of Ukrainian cities, was represented here.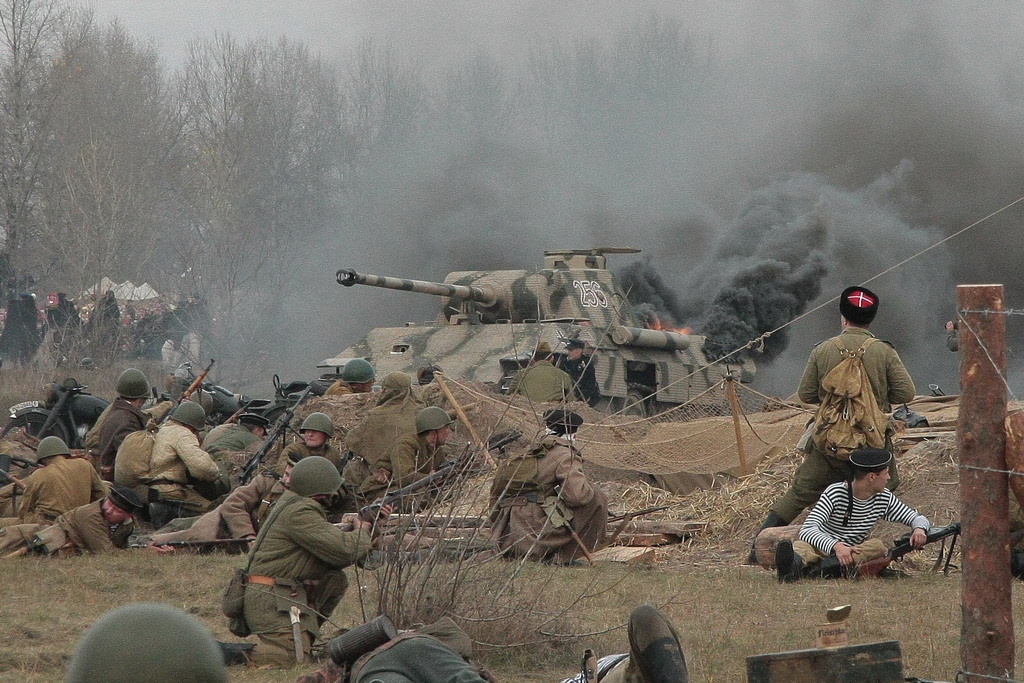 Organizers have put a lot of efforts to make the whole fight reconstruction leave a powerful impression in the memory of audience, and even in the memory of those who didn't have the possibility to see the military battles fully. Clothes, distinctive marks, symbols, weapons - everything was maximally close to the original environment, and if there would not be attributes of the modern world, with horror you could catch yourself on a thought that a real battle was going on around.
During the reconstruction of the fight, which, by the way, showed the events of November 3-13, 1943, a commentator described in detail all the tactical features and actions of both Soviet and German soldiers.
When the last "Hurrah" disappeared and the smoke of pyrotechnic shells and bullets finally dissipated, people went to celebrate the great victory – a good weather and a beautiful view of the right bank of Dnieper, what could be better for a picnic. And if we take into account a lot of experienced emotions, which, believe me, were absolutely sincere, the occasion to share and discuss with friends the event was very seriously.
There was only one thing that sometimes thrilled the insides and made people shrinking under the bright autumn sun. Now everything was so emotionally and funny, so impressively great - soldiers, machinery, gunfire and explosions ... But at that time, 70 years ago, young girls and boys were dying for real. Victims of that bloody battle were excessive. Aged participants of that terrible war with their medals and nostalgic haze in their elderly eyes reminded us that it's not just the shots from the films. They are living reminders that it's not just the beautiful and bright military maneuvers, but particularized and perfected to the last detail reconstruction of real events, which, of course, were not so beautiful. Hundreds of thousands were killed in order that 70 years later we could, with a smile and trembling in the chest, see such a wonderful and massive event to be proud of.

Pictures was taken from: http://moygrad.kiev.ua/ and http://trucks.autocentre.ua