New cards released for the upcoming Blackrock Mountain Adventure. Without further ado – let's take a look at the cards!
And Blizzard just released two new cards that will be featured in the upcoming Hearthstone solo adventure:
The first boss will be Coren Direbrew in 'The Grim Guzzler Bar' As seen by the image below, his hero power is called 'Pile On!' and automatically puts a minion from each deck onto the board at the start of his turn.
And here's how deck will look like:
Additionally, he uses a new card called the Dark Iron Bouncer, a boss-only card that won't be collectable. The Dark Iron Bouncer is a 6 mana minion with 4 attack, 8 health, and the card text "Always wins Brawls"—referring to the Warrior card Brawl, which Coren also has in his deck. BlizzPro says Coren would play a Dark Iron Bouncer when he was falling behind on board, then Brawl the next turn to wipe everything but his own Bouncer. It's a powerful combo, and one I'm actually glad we won't be able to see in constructed play.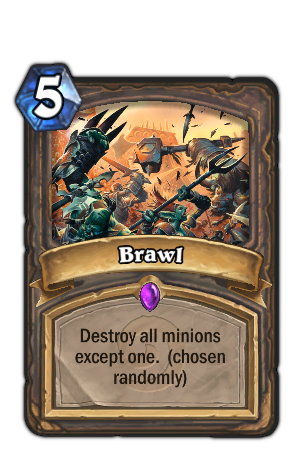 Blackrock Mountain doesn't have a release date yet, but is due out next month. These details are a good indication that this adventure will feel familiar to those who enjoyed Naxxramas.