Heroes of the Storm: buffs for Chromie and Hell Billie
Heroes of the Storm: buffs for Chromie and Hell Billie ⚡⚡⚡ Esports and gaming news, analytics, reviews on WePlay! The latest news on WePlay!
Blizzard deployed new balance update for Heroes of the Storm with buffs for Chromie's characteristics, abilitie and talents as well as new mount - Hell Billie. Check out the changes below:
CHROMIE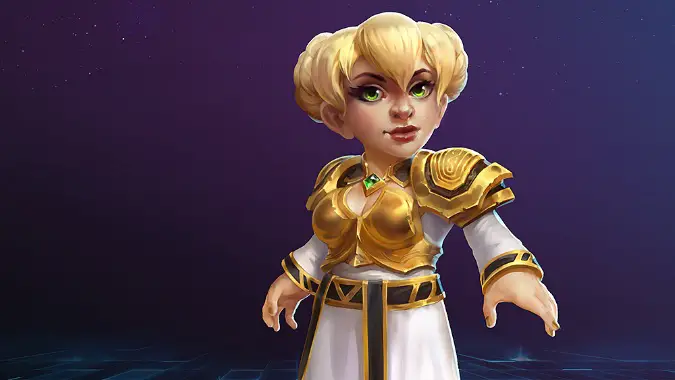 ​Stats
Health increased from 1128 (+4% per level) to 1260 (+4% per level)
Health Regeneration increased from 2.4296 (+4% per level) to 2.625 (+4% per level)
Basic Abilities
Damage increased from 390 (+4% per level) to 400 (+4% per level)
Cooldown reduced from 3 to 2.5 seconds

Dragon's Breath (W)

Damage increased from 440 (+4% per level) to 480 (+4% per level)
Cooldown reduced from 14 to 12 seconds
Talents
Cooldown reduction decreased from 50% to 40%

Chrono Sickness (E)

Slow increased from 40% to 50%

Level 15

Shifting Sands (Q)

Ability Power bonus per enemy hit reduced from 10% to 8%
Ability Power bonus cap reduced from 50% to 40%

Fast Forward (Q)

Sand Blast cooldown after hitting from long range reduced from 1 to .75 seconds

Quantum Overdrive (Active)

Ability Power bonus reduced from 25% to 20%
Developer Comments:  A Hero like Chromie is one that we would expect to come out with a lower than normal win rate.  She has many counters, has a high skill floor, and requires her teammates to play around her poke style.  Even anticipating the gradual increase in effectiveness as people figure her out, we think that she has room for buffs.

Chromie is the type of Hero who has high damage potential (and man, when she hits those home runs they're a sight to behold), but is also very inconsistent.  She'll always be that way to a degree, which is by design.  We're attempting to buff her damage throughput to offset this inability to pick her targets, without making her "one shot" potential any scarier than it is.

We've increased her Health slightly as well so that she is a little more resistant to incidental damage.  If enemies find a way to close the gap and focus her down, her still relatively low Health and lack of escapes will allow teams to eliminate our terrifying gnome-dragon, as they should.
The devs also introduced a new mount - Hell Billie. Besides, players can get Billie the Kid by making a purchase in the in-game shop.
UPDATE: Hell Billie is here!
In the coming days, you'll be able to strike fear into the hearts of your enemies like never before by charging into battle with Hell Billie, the newest addition to our mount menagerie. Check out Hell Billie below, and if you like what you see, then you're in luck—we're going to give you Hell Billie as an added bonus if you make any real-money purchase in the Heroes of the Storm in-game Shop beginning June 3, when the first anniversary event is live!
The arrival of Hell Billie also means that Billie the Kid, who has accompanied countless Heroes on their trials in the Nexus in the past year, is ready to enjoy his well-deserved retirement. If you don't already own Billie the Kid, don't worry! We're planning to give this mount away in addition to Hell Billie from Friday, June 3, through Tuesday, June 14, 2016 as part of this in-game store promotion.
That's right; if you complete any real-money transaction in the Heroes of the Storm Shop during this time, both of these dependable goats will be permanently added to your mount collection. After June 14, only the Hell Billie mount will be awarded for making a real-money purchase in the Shop.
WePlay Spring Series: season finals
Esports team icons return
Other Categories
WePlay Promotes
Stand with Ukraine