Groups and schedule for DreamHack Open Winter announced
Groups and schedule for DreamHack Open Winter announced ⚡⚡⚡ Esports and gaming news, analytics, reviews on WePlay! The latest news on WePlay!
The groups and schedule for the upcoming FACEIT League Stage 3 Finals to be held at DreamHack Open Winter was announced through Twitter on Wednesday.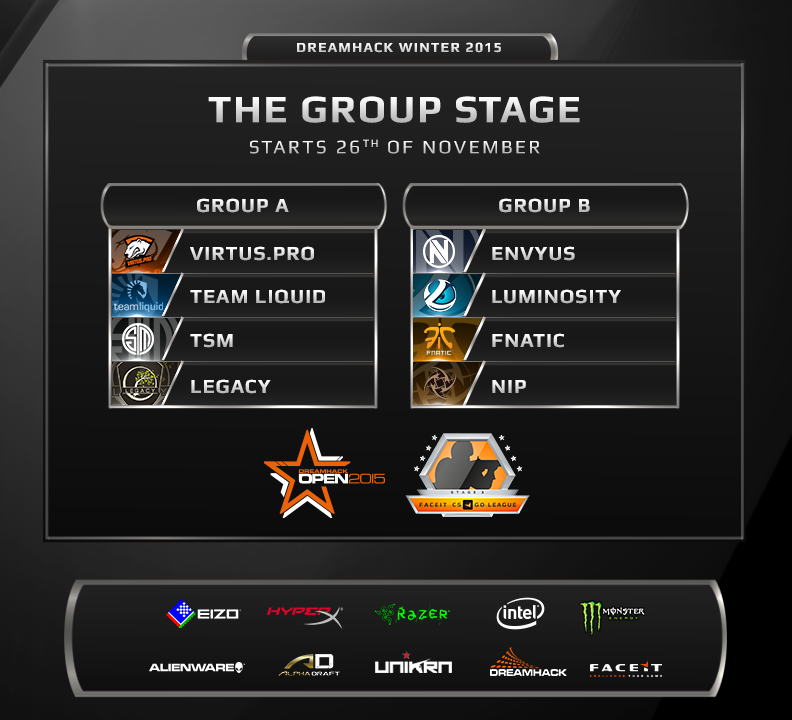 Group B seems to have drawn an extremely competitive set of teams, featuring three European powerhouses, Team EnVyUs, Fnatic and the Ninjas in Pyjamas. The Brazilians, Luminosity Gaming, have also been drawn into the group and those that saw the most recent Major will understand their ability to 'upset' even the strongest of opponents.
Group A on the other hand will feature a dominant Polish squad who just came off their second straight CEVO LAN finals championship and a Danish squad who will be hungry to prove their worth after yet another disappointing Major tournament.
Team Liquid recently took second place at the iBUYPOWER Cup and will be headed to IEM San Jose where they will look to upset Team EnVyUs in their quarterfinal match.
Legacy eSports is a lesser known entity in the world of CS:GO, but they made their way to the Stage 3 Finals defeating Renegades and Team Immunity, both teams that are considered top tier Australian CS:GO organizations.
The full schedule for the event has been released and is as follows (All times are listed in EST):
Thursday, Nov. 26
6:30 - Show start
7:00 - Group A - Virtus.pro vs Legacy eSports
8:30 - Group A - Team Liquid vs Team SoloMid
10:00 - Group A - Winner's Match
11:30 - Group B - EnVyUs vs Ninjas in Pyjamas
13:00 - Group B - Luminosity Gaming vs Fnatic
14:30 - Group B - Winner's Match
Friday, Nov. 27
5:30 - Show start
6:00 - Group A - Elimination Match
9:00 - Group B - Elimination Match
12:00 - Group A - Decider Match
15:00 - Group B - Decider Match
Saturday, Nov. 28
7:30 - Show start
8:00 - semifinal #1
11:00 - semifinal #2
15:05 - Grand Final
EnVyUs withdraw from IEM San Jose
Just Cause 3 Gets Official Glorious 4K Gameplay Video
Other Categories
WePlay Promotes
Stand with Ukraine